As Autumn wraps us in her chilly embrace, and the prospect of Winter's icy fingers soon to be running down our spines, it was time to clear the garden of what remaining foods it would give up.
The first to give up their hidden gifts was the two potato plants that had survived. Although we have proved that it is possible to grow spuds in pots or other utensils, i would recommend you simply don't.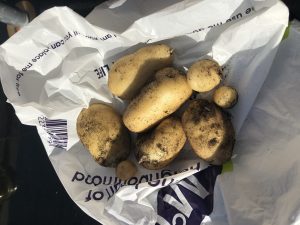 Technically there were eight potatoes, but that seems a generous description of the tiny ones. It will not dissuade me from trying again next year, but was disappointing as I hoped for at least two meals out of them. Next up were the carrots, and they were the opposite as far as numbers were concerned, even if they were a little bit little.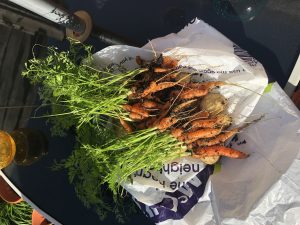 At this point I decided to test a carrot and a spudlet. Boiled them both quickly for a few minutes, and gave them a munch. The spudlet was amazing. So tasty. The carrot was a little disappointing at this stage, but i do like my veg sweet while this fella was determined not to follow this simple guideline. The rest of the afternoon was spent disposing of the poor souls that hadn't made it. This cull produced a couple of 'cucumbers', although nothing like you would see in the supermarket. And the last batch of tomatoes of the year. Also three garlic nearly-bulbs were kicking about in the soil.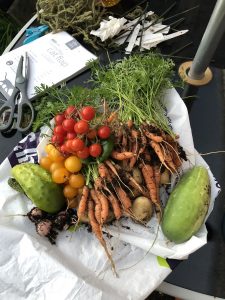 All in all, not a bad haul, especially as there are still some salad plants not quite ready to give up for the year. Celebrated this bounty with fish and boiled garden spuds with garden mint and shored up with shop peas and a spud or two. You could tell the difference between the store bought and the fresh ones; they were worlds apart. Can't wait to do it better next year.