As a new convert to the whole idea and concept of healthy eating, and growing your own nourishment, this morning's breakfast seemed like a good example. Although obviously I had not harvested a brace of Weet based Bixcuits, nor milked Dasiy for the moo juice, I had just plucked the strawberries from the garden as an addition to my morning cereal.
I felt as an easy option for how to use a little garden produce in a meal, this was prime fodder, so sliced three extremely fresh strawbs, and scattered them aesthetically over my duplex bix and milk. I was pleased with the result, I'd pay a couple of quid for a breakfast looking that good in a hotel any day.
So this is where 'Breakfast Pics' may differ from breakfast proper. My next thought was that any milky cereal will always benefit from a light dusting of sugar. This does not fit in quite as well with my healthy lifestyle options, but i felt a light dusting would still look good and not interfere too greatly with the unhealthiness purge.
Now that doesn't look so bad, a light dusting of sugar actually seems to enhance it so you feel you can actually taste the meal. You feel hungry, right? I realise I am not one of the great photographers of the world, but I am now feeling pretty happy with my work.
About now I realise that I am hungry, and my stomach has already expressed concerns that there has been lot of emptiness coupled with an excess of photography. This has been exacerbated by the proximity of the readily available comestibles that are being recorded for history rather than being heartily consumed.
The time for photos should now be over, I have achieved what I wanted, a couple of pics of a healthy breakfast. Now I can eat it. Now is the time to prepare it for the real eating, I have shown the world what I want it to see, now I can relax and throw the couple of shovelfuls of sugar on that I need to make this palatable and retire to the sofa.
Suddenly consumed with guilt, I take my final breakfast pic, the truth, shorn of lies and facade. By now the Weet of my Bix has no solid parts, I may as well have porridge.
Cold, sugary, strawberry-flavoured porridge.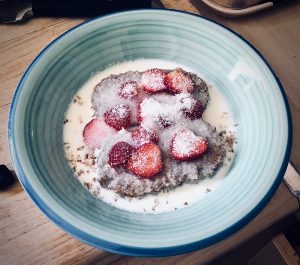 I am not ashamed, and I hold my head up high, because although I may not do the right thing, I am happy to admit when I don't.
Plus cereal tastes awful without sugar, we all know it.