Following my recent discovery regarding the ripeness of my cute little tomato bush, Sylvester, I was eager to taste the fruits of his, well, fruits.
Having just finished baking a fresh loaf of cheese and onion bread, I felt a BLT was very much in order. Ingredients all very simple. Two rashers of back bacon, two sumptuous yellow tomatoes straight off the bush, and fresh salad leaves.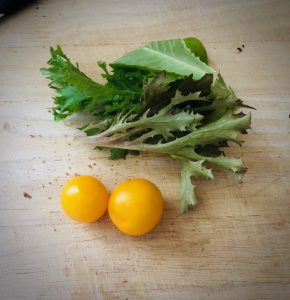 As the bacon grilled, I smothered the bread in mayo, and sliced the tomatoes that were still warm from the sun. The bacon was quickly ready and was neatly slapped onto a slice.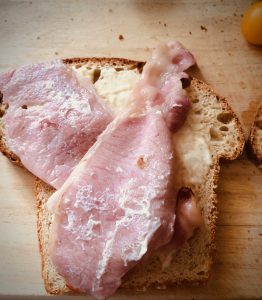 Some decorating done with the greenery followed, and then just left the prize participant, the tomatoes. As an afterthought I finely chopped some of the younger leaves of the basil plant to sprinkle onto my creation.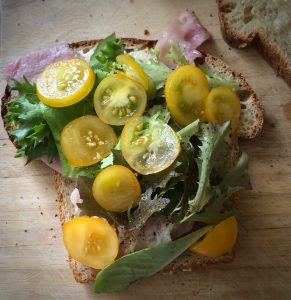 A twist of pepper and pink salt and the sarnie was topped off with another delicious fresh slice of bread.
I can honestly say it was the best BLT I have ever tasted, and the tomatoes are what made it. My only regret now is that sadly Sylvester is a solitary bush, so I need to brush up on my knowledge and skills so I can reproduce his amazing attributes into another bush or two. Having never been a huge fan of tomatoes, it is amazing to suddenly find some that are tasty beyond compare.
The other tomato plants are coming along, and even some of the smaller varieties are starting to ripen. There are a few beef tomatoes that already look huge, but I fear they will not have the taste that Sylvester has brought to the party. I also feel saddened that now I have tasted the pinnacle of BLT's, no other will ever be good enough for me.
As a bonus, here's a sneaky peak under the covers of a Bunt BLT, as enjoyed in the garden in the sun.